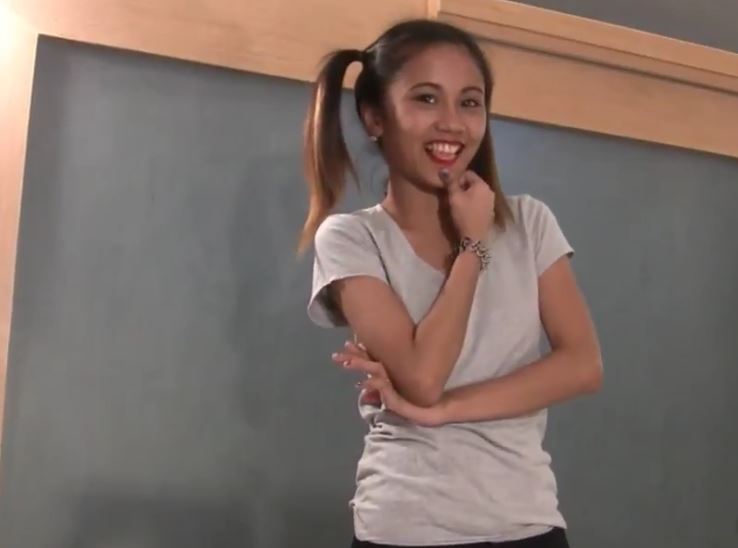 To all you fucking Philippine Perverts out there, we've got a very hot 19 year older to show you. Perhaps you remember her from a Trike Patrol Episode a while back.   Her name is Candy, an ultra sweet and cute Pinay hottie with a tiny little body, tiny little ass and a tiny tight little pussy. She was cute back then at age 18, a bit inexperienced, but still a beautiful tiny Philippine teen to fuck.  Remember her? In the Scarred for Life episode?
KB found her at a bar, and invited her back to shoot some porn with him.  It turns out this hot little 19 year older learned a thing or two in the past year.  One thing she learned was "how to ride cock".   It took about 30 minutes of sucking and fucking her to finally get her tiny little ass on top of KB's big dick.  Once Candy got on top she started pumping that tiny ass up and down on his hard 9 inch cock.  It was a thing of beauty and you'll jerk off before you get to the end of the scene it's so good.
As the video tells the story, Candy has matured sexuallyin the 6 months since she last fucked on video.  Her English still sucks, but she has learned a few words like "Fuck" and "Cock" and "Suck", three words all Philippine cuties like this need to know.   This is fantasy pussy, with little or no talk, and some wild cock riding.
Candy is young, gorgeous and knows how to please her man.   She'll make her family back in the barrio lots of money they can spend.   There is no place else in the world, sans Thailand that even lives up to this kind of action and sexual fire.
Sit back and whack off guys, as KB does a fantastic job spinning, flipping, poking, proding and fucking this hot little whore.   She is an incredible Filipina teen we hope does more episodes.